Best Concrete Conference Tables Services in Palm Beach County, FL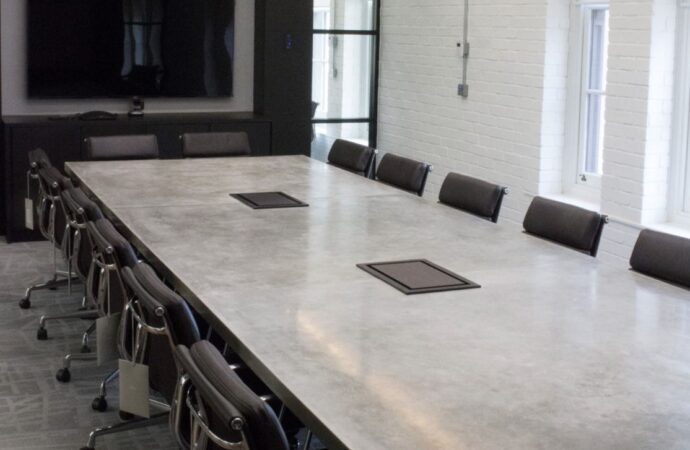 Do you own a conference venue and are looking for an opportunity to make an investment in high-quality tables? There is a broad range of materials that you can choose from for your conference concrete tables. One thing you need to have at the back of your mind is that the features of concrete tables are very different from what you need in your home. Therefore, you have to be careful as you choose the type of materials for your conference tables. In this article, we will look at the applicability of concrete conference tables in your space.
One thing you need to understand as you buy furniture for your conference facility is that you need accessories that will attract and retain customers. There are several things that make concrete conference tables to be the best option. Customers are always looking for venues that have beautiful furniture. Concrete is one of the best materials if you want to enhance the aesthetic value of your place. Let no one cheat you that the concrete material only comes in one dull grey shed. You can now give this material a very shiny finish depending on your taste and preferences. Concrete conference tables are among the beautiful pieces of equipment that the market has to offer. Your visitors will be happy with the kind of aesthetics that these tables bring into the conference room. You will have a space that is like no other in the region. Just look for the best decorative concrete and apply it to your conference tables. You will surely be impressed with the kind of finish that this product will give you at the end of the day.
The other good thing about concrete material is that you model it into almost any shape. Therefore, you can get a craftsman who will model your tables to match the size of chairs that you have. You can also give them any shape that will make them blend so well with the rest of the room. This high level of flexibility is what makes concrete conference tables one of the best choices for investors. You will just shape them into what you want. https://www.concretepbc.com can evaluate your space and share with you some of the best ideas on how to design your space with concrete conference tables. You will get very unique designs that will make your conference space stand out from the others facilities in the region.
You will agree with me that conference tables are always under a lot of use with different classes of people. Some of these users know how to take good care of these products while others don't. This is where the tough nature of the concrete comes in. Concrete counter tables are criticized for being heavy but they are highly durable. The materials are tough and hence do not break with a lot of ease. It is the best for furniture that is designed for public use.
The other reason that makes concrete conference tables an ideal option is the fact that they are easy to clean and maintain. Just use mild water and soap and the tables will be sparkling clean. Guests like to sit in a clean environment and this could be one of the best options for them. They are an excellent option for any investor who wants to maintain high levels of hygiene in the facility. The material can also crack when the tables fall down or something heavy falls on it. However, you can correct this through regular maintenance which is not so costly. Taking good care of your concrete conference tables will also avoid these incidences of cracking.
Concrete conference tables tend to be cheaper than most of the options you find in the market. You will get them at a low price but still, have the assurance of a high return on your investment. These tables give you better service quality than even what the expensive options do. You will be sure of getting the best service at affordable prices.
We cannot run away from the fact that concrete conference tables are porous. However, most of them are kept in closed conference rooms where there is minimal exposure to harsh weather conditions like rain. However, craftsmen will seal them to offer maximum protection to the table surfaces. Therefore, the fact that the concrete material absorbs may not be a great threat when dealing with concrete conference tables.
We offer a variety of concrete and demolition services throughout Palm Beach County, FL. Click below to see how we can serve your needs today.
Here are our additional services throughout Palm Beach County
We offer concrete and demolition services throughout Palm Beach County, Florida. Below is a list of all the cities we primarily work in. But if you're needing services and you're outside our main work area, don't worry! We offer services throughout St. Lucie County, Martin County, and Broward County as well. To learn more, you can call or text us at (561) 693-2787 or click here fill out a contact form so we can assist you