Best Epoxy Flooring Services in Palm Beach County, FL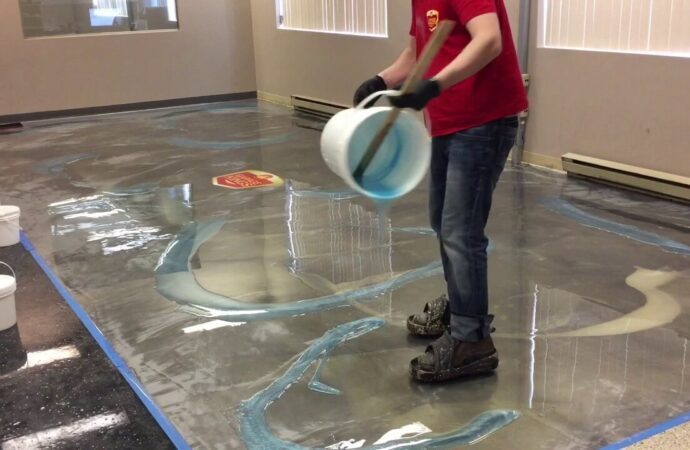 There are various types of flooring in the market. You can choose one depending on the place of installation, the purpose of the surface, your preferred design, and your budget. Epoxy is just one of the common surfaces that you use to protect your concrete floors from constant tear and wear. Epoxy flooring is made by combining several liquid hardening chemicals or liquid polymer resin. It is one of the best approaches to flooring that you get in the market. Once you combine these two substances, you will pour them over a current base of flooring so as to create a protective coat. Even though we can generally view epoxy surfaces to be concrete floors, you can also apply the same treatment on floors that are manufactured from wood. You can also come up with a floor that is exclusively designed from epoxy.
In most cases, you will get epoxy flooring in industrial applications. The primary reason for this is that epoxy flooring creates the kind of surface that is impervious to the wear and tear of industrial floors and several chemical spills. Epoxy flooring contractors may also mix sand, and color chips, among other hard plastics with the epoxy materials to give your floor some kind of traction. In most cases, these experts use quartz sand for this type of application. The use of such sand helps in creating non-slip floors that are ideal for industrial applications, especially in the food processing region. Most epoxy floors have anti-static properties that are used in laboratories and electronic manufacturing where the electric charges may damage sensitive electronic equipment.
Most individuals believe that epoxy flooring has a clear surface but the truth of the matter is that most of these floors have an opaque look. Contractors can mix epoxy with pigments to create a solid opaque color that is applicable in both industrial and home applications. If you wish to create a marble epoxy floor, you need to mix chips of plastic or large particles in colors that are contrasting. You will get most of these colors in private homes and garages. You can also use epoxy flooring to create logos on your floors for the purpose of industrial applications. Some people refer to this kind of flooring as graveled epoxy, mortar epoxy, or epoxy terrazzo. The most important thing is to get a professional who will give you the best applications ever.
Even though you will mostly find epoxy flooring on public and industrial buildings, its use in places of residence has been on the rise in the recent past. You will find at least some type of epoxy flooring for at least every room that you have in the home. The most important thing is to get a design that will flow well with the specific room. If you are dealing with the kitchen, bathroom, or entryway, you can get some tiles that are made of epoxy. Therefore, there is no limitation on how you will b applying epoxy flooring. These tiles are ideal for home areas that experience a high level of traffic. The homeowner may also choose to pour a coating of clear epoxy over hardwood flooring that is well prepared.
In residential places, you can apply the epoxy coating for your garages when your floor is manufactured from concrete. The homeowner can buy a kit from a home improvement store and use it to apply epoxy on his or her floors. This application process is inexpensive and easy. However, it is good to contact a reputable company to help you with the application process if you desire to get exemplary results. A good example of companies that does a good job is Palm Beach Pro Concrete Contractors. These professionals have the right expertise to handle all your epoxy flooring needs.
We offer a variety of concrete and demolition services throughout Palm Beach County, FL. Click below to see how we can serve your needs today.
Here are our additional services throughout Palm Beach County
We offer concrete and demolition services throughout Palm Beach County, Florida. Below is a list of all the cities we primarily work in. But if you're needing services and you're outside our main work area, don't worry! We offer services throughout St. Lucie County, Martin County, and Broward County as well. To learn more, you can call or text us at (561) 693-2787 or click here fill out a contact form so we can assist you