Best Concrete Retaining Walls Services in Palm Beach County, FL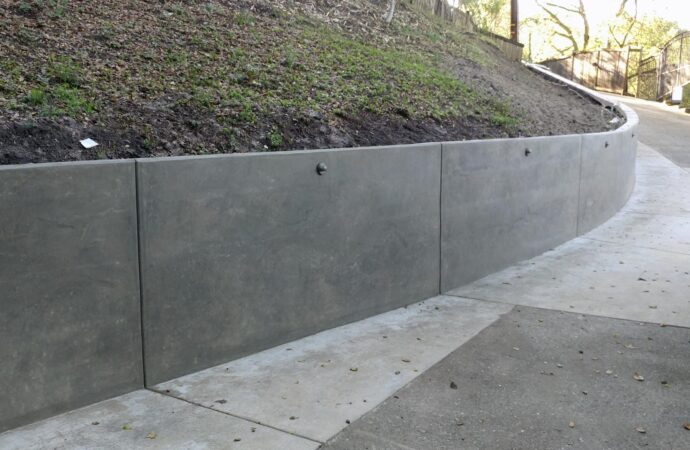 Concrete retaining walls are not just used to control soil erosion. With a lot of available materials on the market for retaining walls and many configurations for the design of retaining walls, there is a lot of room for becoming creative and beautifying the landscape further. These walls can stabilize slopes and prevent erosion of soil. They can also group garden and plant areas, and then create paths.
There are different retaining wall types like natural stone, bricks, and stacked masonry blocks. Concrete/glass elements are also available in many colors and textures and resemble things like wood and slate. Each landscape has different sloping and soil, and your choice needs to result in a good retaining wall that will add stability and beauty to the design of your landscape.
Retaining wall materials
---
Dry stacked concrete blocks
Dry stacked and mortarless concrete have gained in popularity as they undergo manufacturing to fit well without grout. These blocks are self-aligning and the fit is level and straight. The other advantage is that you can move or disassemble it at a later date in case you would like to make changes in the near future.
Poured concrete walls
Concrete retaining walls are crucial in areas in which soil is heavy or unstoppable and works well on steep slopes. Poured concrete can be molded, polished, and colored to mimic any designer material of your wish.
Architectural concrete
Architectural concrete can be formulated to resemble polished stone, brick veneer, and wood. You may add other items to the face like column bases, cornices, and any other statuary or ornament. The results of this installation are amazing concrete retaining walls.
Wooden retaining walls
The landscape that comes from wood will be very natural. The only drawback of using wood is that it gets affected by insects, moisture, and rot, and cannot endure like other materials. If you are looking at installing concrete retaining walls for your home, visit us at https://www.concretepbc.com/.
Concrete retaining walls are crucial for providing support to the earth which would destabilize as a result of changes to the level of the ground. They are used in homes to help create level platforms that maximize the usage of space. Therefore, uneven terrain and slopes can be leveled to be utilized as sites of buildings and ensure sufficient parking space and level yards for play locations.
Apart from holding soil back, you can use this soil to protect against erosion in locations where it is a problem. These walls are preferred due to their durability. You can use them in many conditions because concrete cannot rot and are effective in locations that they are subjected to constant drying and wetting.
What to consider while building concrete retaining walls
---
If you have plans of building concrete retaining walls on your property, it is crucial to check with the authorities to see if you require approval. Remember that it varies between areas and will depend on the wall height and ensure that enough drainage has been catered for.
You may even present the drawing of the plan with the details and design certification from consultants. It is crucial to ask to avoid encountering problems.
When you are constructing concrete retaining walls, a good solution for drainage is crucial if the water builds up behind the wall as it may result in a collapse. The walls have a design of withstanding soil weight. While this may seem sufficient, it is crucial to note that water exerts more pressure as compared to soil, therefore, it necessitates proper drainage.
Typed of concrete retaining wall blocks
---
The difference between these walls is done according to their design of resisting the earth they support. Therefore, you may have piled walls, cantilever walls, and gravity walls.
Gravity concrete retaining walls rely on their weight to hold back soil, while piled walls are constructed by embedding posts in the ground. Therefore, piled walls have the ability to take a lot of pressure and are used for high platforms. Cantilever walls, on the other hand, are built in the manner of an inverted T to provide additional support to other walls.
Fences and retaining walls
Installing a fence on concrete retaining walls can be problematic and is more complicated when erecting it on the soil. It is more cost-effective when you look for a professional for the project. These walls are the most durable and effective solutions for leveled-out areas where you intend to install a fence.
We offer a variety of concrete and demolition services throughout Palm Beach County, FL. Click below to see how we can serve your needs today.
Here are our additional services throughout Palm Beach County
We offer concrete and demolition services throughout Palm Beach County, Florida. Below is a list of all the cities we primarily work in. But if you're needing services and you're outside our main work area, don't worry! We offer services throughout St. Lucie County, Martin County, and Broward County as well. To learn more, you can call or text us at (561) 693-2787 or click here fill out a contact form so we can assist you