Best Fire Demolition Services in Palm Beach County, FL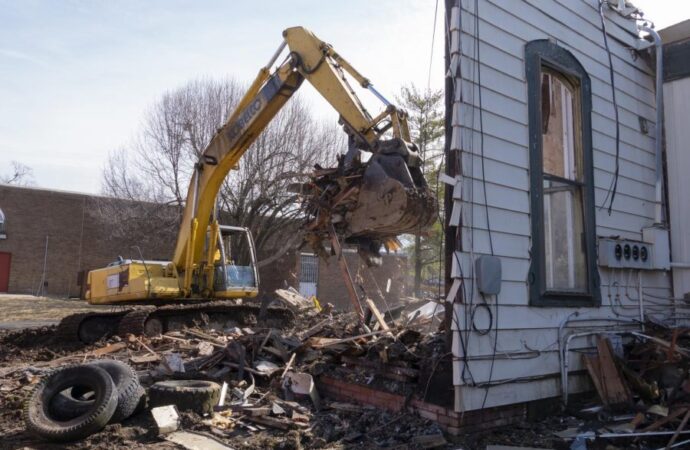 Fire demolition means bringing down a building that has been razed by fire. Usually, after fire incidents, affected buildings are generally condemned for occupation by human beings and therefore rendered useless.  This condition, therefore, necessitates the need to bring the affected structure down and either bring up another one or use the space for other purposes as well.
The process of fire demolition should be carefully done to avoid any further damages. Apart from that, damaged buildings located in cities or market centers should even be handled with enhanced care since they pose a risk to other people's structures as well.
Bringing down structures damaged by fire should be extremely careful and highly experienced and skillful people like an employee of Palm Beach Pro Concrete Contractors. These experts have vast experience and are familiar with the technicalities bringing down a fire-damaged building requires. If you can contact them, then you will be assured of an expeditious careful demolition process.
If you have are unfortunate to have had your building razed by fire, and you intend to knock it down then you need to take time and consider some essential factors first before embarking on the process.  The factor below should guide you appropriately is required of you or what you need to do during a fire demolition process.
The Nature of the Building
---
Different sorts of buildings require different demolitions tactics. For instance,   a fire-raged story building will need rare sophisticated tactics to bring down. This building if not handled with the required care might end up descending on other people's properties, which might translate into problems between you and the property owners. I
f this is your case, then you need to get the service of Palm Beach Pro Concrete Contractors to come and bring the building down for you. These experts have the required experience and know precisely how to handle such a structure to avoid any problems.
Legal Certification
---
Before bringing down your building, you first of all, need to confirm with the relevant authorities for their approval. They may need to come and conduct a physical survey around the building to ensure that it's bringing down will not have an effect on other people's lives and properties and the environment as well. After this inspection, you can now bring in consultants from Palm Beach Pro Concrete Contractors to come and assess the building to determine the appropriate method of bringing it down. You may need to find out from them how long they think the whole process will last and at what price.
Equipment
---
Whereas most demolition companies come with their working equipment, the complexity of some structures might require you to look for other complicated stuff as well. For instance, buildings with a location at a city center might take more than builders and the wreck balls to bring down.  Sometimes you might even use explosives to bring such structures.
Environmental Effects
---
Sometimes bringing down a fire-damaged building might be a nuisance, mainly if the location of the building is closer to gardens or forest.  With the increasing number of environmental activists, you will get the assurance of scrutiny from all quarters, and you may need to bring down the building using a method that is friendlier to the environment. 
If this is the case with you, then you need not worry. Experts from Palm Beach Pro Concrete Contractors have just more than a way of bringing down structures, and with your particular case, you will get assurance from them that they have a means through which they can use to bring down the structure without affecting the environment.
A fire-razed building might be a source of problems for you, especially if it is standing somewhere and there is pressure on you to remove it from both the public and the authorities. However, with the experience of Palm Beach Pro Concrete Contractors, you will get assured of a smooth and fast process.
We offer a variety of concrete and demolition services throughout Palm Beach County, FL. Click below to see how we can serve your needs today.
Here are our additional services throughout Palm Beach County
We offer concrete and demolition services throughout Palm Beach County, Florida. Below is a list of all the cities we primarily work in. But if you're needing services and you're outside our main work area, don't worry! We offer services throughout St. Lucie County, Martin County, and Broward County as well. To learn more, you can call or text us at (561) 693-2787 or click here fill out a contact form so we can assist you