Best Concrete Stamping Services in Palm Beach County, FL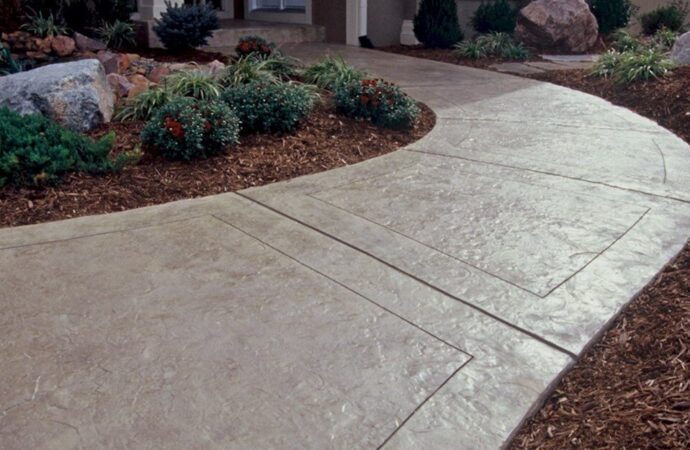 The value of concrete stamping presents itself over and over again in different types of projects. This ranges from patios, and driveways to malls and theme parks. Most people choose stamped concrete because of high-value improvements, reduced costs, ease of maintenance, and the creation of an appealing final product. These surfaces also have durable and long-lasting features that come with regular concrete. Concrete stamping will add a decorative touch to your surfaces and make them an economical and desirable product for everyone. Therefore, concrete stamping offers practical benefits in terms of aesthetics, cost savings, and performance.
Reduced Long Term Care and Maintenance
---
With time, other surfacing materials like pavers may settle or become loose which results in the hazard of tripping. The advantage of stamped concrete is that it does not require replacing or resetting. These surfaces eradicate the tripping hazards of resorts and parks among others.
Reduced Long Term Care and Maintenance
---
The other surface materials like pavers settle or get loose over time and begin to trip. The primary advantage of concrete stamping is that it does not require replacing or resetting. Stamped concrete does away with the tripping hazards for resorts and parks.
Uses fewer Amounts of Labour
---
Some installers will tell you that pouring and patterning concrete is a more economical approach than hauling the surface and placing individual paving stones through the use of hands.
Durability
---
The other advantage of stamped concrete is increased longevity. The initial investment that you put in stamped concrete is a small portion of the whole equation. Concrete has the longest lifespan in comparison to other construction materials. It is durable in most construction environments and holds up in a better way to wear and traffic.
Needs Low Maintenance
---
Stamping concrete calls for minimal maintenance than other paving materials and this will help you to save big on this surface in the long run. It has one of the least maintenance requirements in the market.
It Increases the Resale Value of Your Property
---
The beauty of concrete stamping is that it brings instant aesthetic value and curb appeal to your property. You can maximize the returns that you have on your investment by selecting stamped concrete over plain surfaces.
You won't fall short of choices when looking for the best aesthetic landscapes for stamped concrete. Stamping concrete comes in several textures, patterns, and colors. The design mimics almost all surfaces such as weathered lumber, stone, and marble hence providing an aesthetically pleasing surface that adds value to your property or home. Stamping concrete is a budget-friendly approach to adding a decorative touch to your living or working environment.
Installation
---
Ease of installation is one of the primary advantages of stamped concrete. Concrete stamping needs less labor in comparison to the one that you make out of pavers because you will need to haul and set each paver. However, you need to avoid any errors that may come from the ease of installation. Concretes a mixture of cement powder and water. You may get a poor finish and rough edges if the mixture has a lot of water. A mixture that is so dry will also lead to premature cracking and bulging.
With all these benefits, you will agree that concrete stamping is one of the best finishes for concrete surfaces. However, you stand no chance to benefit from this beautifully textured surface unless you have the right experts installing it. One of the best contractors to work on these surfaces is Palm Beach Pro Concrete Contractors. The company produces high-quality concrete stamping surfaces are affordable rates.
We offer a variety of concrete and demolition services throughout Palm Beach County, FL. Click below to see how we can serve your needs today.
Here are our additional services throughout Palm Beach County
We offer concrete and demolition services throughout Palm Beach County, Florida. Below is a list of all the cities we primarily work in. But if you're needing services and you're outside our main work area, don't worry! We offer services throughout St. Lucie County, Martin County, and Broward County as well. To learn more, you can call or text us at (561) 693-2787 or click here fill out a contact form so we can assist you