Best Concrete Pool Decks Services in Palm Beach County, FL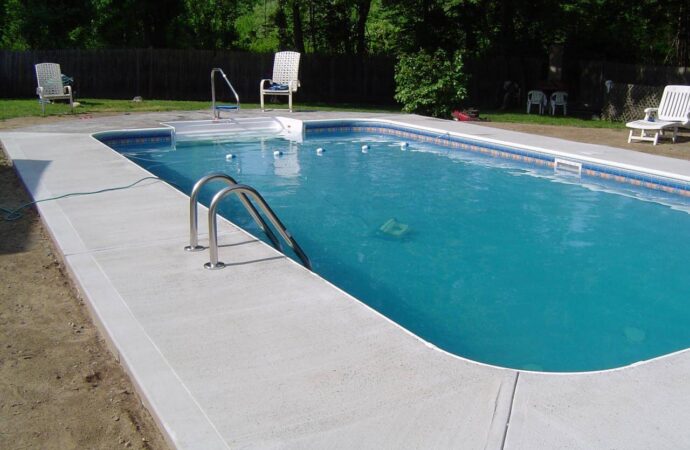 One of the best additions to your swimming pool is concrete pool decking. If you are thinking about making the leap by investing in concrete pool decks, you need to think about all the options that you have when it comes to decking materials. One of the materials that have been the best choice for pool decks in the last few years is concrete. Several benefits come with concrete pool decks. The most important thing is to hire the right professionals to work on the installation process. Palm Beach Pro Concrete Contractors are on the leading end when it comes to the installation of these surfaces. Let us look at some of the reasons why concrete is the best material for making your pool decks.
Low Maintenance
---
The primary advantage of installing concrete pool decks is that fact that the upkeep is easy. The color of your concrete pool decks will begin to fade over time. All you need to do is reseal the decks every two to three years. The ease of upkeep makes concrete pool decks a favorite of many people. It is necessary to maintain concrete pool decks but the process is neither time-consuming nor extremely difficult. You will prevent the fading away of colors once you seal your concrete every 2-3 years.
Affordable
---
Most people run for concrete pool decks because they are easy on budget. It is a great option for anyone who would like to have a pool deck in his or her home but doesn't want to break the bank. Concrete falls among the most economical pool deck materials. Besides, the low maintenance costs and durability even render concrete decks more affordable.
You will not get another cheap pool deck material in the market. It gives you a broad range of alternatives for the installation of low-cost decks to the installation of multi-colored, extravagant, and patterned decks, and everything that is in between. Therefore, you can use concrete to enhance your pool deck irrespective of your budget. At an insignificant cost, you will get the appearance of traditional materials like pavers, slate, and flagstone. Concrete has more reasonable lifetime maintenance and installation costs in comparison to other materials like stone. A cost-benefit analysis of concrete pool decks will show you that it is a viable project. It is one of the best alternatives for anyone who wants to install concrete pool decks in the home.
Attractive
---
Concrete pool decks are a great alternative because it is easy for the eye. It is one of the most beautiful pool decking materials on the market. When most individuals think about concrete, the grey-colored pavement is what comes to their mind. What you need to understand is that you can stain, paint, and texture concrete to achieve a broad range of looks. You will be surprised by the attractive looks that you will have on your concrete pool decks.
No wonder most people will tell you that concrete is the chameleon of surfacing materials. The reason is that you can imprint, texture, stain, paint, pattern, and color it to achieve any look that you can imagine. Gone are the days when you would associate concrete with plain and grey sidewalks. The material produces some of the most aesthetically pleasing pool decks that you can get in the region.
Eco-Friendly
---
What most people don't know is that concrete is easy on the environment. The concrete material is environmentally conscious. You will get it nearly everywhere in almost all localities hence eliminating the shipping costs. Concrete primarily comprises limestone which is among the most abundant construction materials on the face of the earth. It is a material that is environmentally responsible. Given that concrete is locally available, it will cut down on the costs of transportation like pollution and fuel consumption. Therefore, using concrete for pool decks will preserve the local economy. Concrete also comes from the most abundant minerals on the planet like limestone and earth. In other cases, other ingredients come from other waste by-products from steel mills, power plants, and other manufacturing facilities. Concrete is a durable material and hence the concrete pool decks will not burn, rot, or rust. Palm Beach Pro Concrete Contractors.
We offer a variety of concrete and demolition services throughout Palm Beach County, FL. Click below to see how we can serve your needs today.
Here are our additional services throughout Palm Beach County
We offer concrete and demolition services throughout Palm Beach County, Florida. Below is a list of all the cities we primarily work in. But if you're needing services and you're outside our main work area, don't worry! We offer services throughout St. Lucie County, Martin County, and Broward County as well. To learn more, you can call or text us at (561) 693-2787 or click here fill out a contact form so we can assist you