Best Concrete Fire Pits & Services in West Palm Beach, FL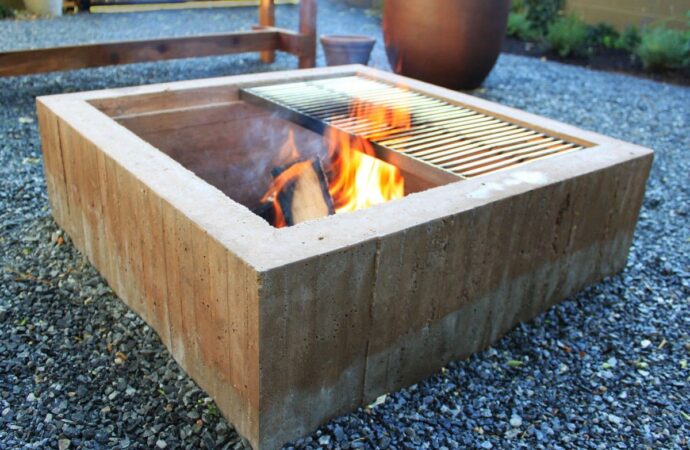 When you mention concrete fire pits to someone, it is amazing if they will have an idea about the meaning of a fire pit. In the real sense, there is an extensive range of fire pits in the market, which makes choosing the right one very hard.
Fire pits are portable or permanent, suitable for heating or barbecue, bonfires, utilize different sources of fuel, have different accessories, and come in different styles and sizes. When you put these variables together, it is no wonder that selecting the right fire pit is quite confusing. Below are some of the commonest fire pit designs on the market.
The chiminea design
---
Chiminea concrete fire pits are circular, squat tubs that sit above the ground and are supported on three feet. It was traditionally made of ceramic but modest variations come in materials like metal, cast iron, and concrete. You can use it to cook food and provide heat by burning logs of wood. Modern versions still have the same cylindrical stovepipe and rounded body, and there is a hole in the bowl side for you to feed wood on the fire.
The permanent, in-ground design
---
These concrete fire pits begin as holes dug in the ground. They are lined with a small stone wall that extends above the ground. The bricks and rocks help in insulating the fire from the soil and blocking the wind. You may use this pit as a campfire in the backyard and add a grill for cooking. This fire pit is not movable but is safer than using open fires built onto the ground.
In case you desire to have concrete fire pits, but do not want permanent ones in the ground, you may consider some units that are portable. Copper bowls are quite popular with a dish for building fire and a metal for supporting it. You may also get above-the-ground concrete fire pits that are either rectangular or square, and the majority of them have spark screens on the flames. In that manner, fresh air gets in but sparks and flames cannot escape. You may choose to carry this fire pit to the beach or any other place of choice due to its versatility. Some pits that are enclosed have the option of adding a flat barbecuing grill, a rotisserie bar, and an ash pan for removing and cleaning with ease. You may even choose to use coal.
It is possible to purchase concrete fire pits fueled by gas in place of coal or wood. This type is permanent for it to remain connected to your natural lines of gas. Several designs run on propane and are portable. They are available in diverse shapes and do not require spark screens. The gas fire pit is a good choice when wood fire is prohibited in the neighborhood.
Safety
---
You need to start by checking with the local civic or community center if you can construct concrete fire pits in the backyard because other neighborhoods discourage it. When nobody is objecting to your idea, your fun will begin from there.
Location
---
You need to select a good location carefully that is suitable for accommodating your concrete fire pits. The spot has to be away from a thing that may burn easily like branches of trees hanging around the place of choice. You have to visualize a wide space surrounding the concrete fire pit like benches or seats as people will be sitting around it.
Locate the center or focal point for the space of these structures. You have to mark it with a stake from wood. After finding the right location, measure the exterior edge with the help of a string, by tying it to one end of the stake and then stretching the string in a circular manner. Use flour or chalk to blotch this area. You may dig in the grass or clear the area from any obstruction or grass. You will have measured and created the exterior edge of your concrete fire pits.
While using the center of your wide circle, you will shorten the string by one foot to create a second circle in the external one. This will mark the thickness of the concrete structure. You are set to start mixing and pouring concrete in this area, ensuring that it covers one and a half inches higher than the ground level. You will then add rebar to support and secure the base. Allow the concrete to dry and you become ready for the last section of finishing that will ensure that the fire pit is looking like your house. Visit https://www.concretepbc.com/ to get the right advice on getting concrete fire pits for your home.
We offer a variety of concrete and demolition services throughout Palm Beach County, FL. Click below to see how we can serve your needs today.
Here are our additional services throughout Palm Beach County
We offer concrete and demolition services throughout Palm Beach County, Florida. Below is a list of all the cities we primarily work in. But if you're needing services and you're outside our main work area, don't worry! We offer services throughout St. Lucie County, Martin County, and Broward County as well. To learn more, you can call or text us at (561) 693-2787 or click here fill out a contact form so we can assist you