Best Concrete Patio Installation Services in Palm Beach County, FL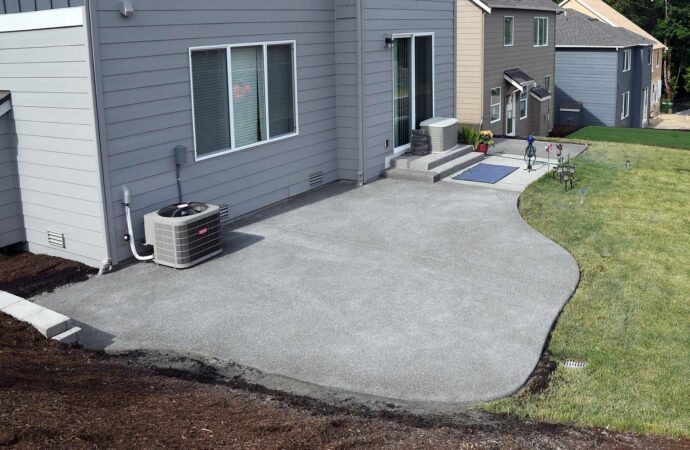 Concrete is one of the most popular choices that people think about when they want to update or create their patio. One of the top reasons for this is that it has an inexpensive price tag. The other benefits of concrete countertops are their high level of versatility and durability. Therefore, concrete is continuing to become a top choice when it comes to the installation of the patio. Consumers are getting to understand that with concrete, you can give your patios a broad range of effects. It also encompasses the overall look of your outdoor tiles among other patterns.
The market has a broad range of concrete patio installations. You can choose any of them depending on your unique needs and budget. The most important thing is to choose a design that will blend well with the overall look of your home. Besides, you cannot get the best results unless you bring the right professional on board. You need a contractor who has the right experience and professional background in concrete patio installations. One such service in the region is Palm Beach Pro Concrete Contractors. The company has a proven track record of delivering high-quality concrete patios. Some of the common designs include acid-stained, exposed aggregate, poured concrete, and stamped concrete patios. Let us have a look at each of them so as to understand what you expect from all of them.
Acid Stained Concrete Patios
---
If you have a concern about the 70's flashbacks, the acid-stained concrete patios are not only stylish but also highly durable. In this technique, you will pour acid over still-wet concrete, and reacts with the chemicals that are present. It results in a broad range of colors that blend and mingle to create the appearance of a natural stone or a more colorful and highly vibrant design. You have a choice to choose what best suits your needs. The color that you get from the stained acid concrete installation will never fade. It will remain intact throughout the whole lifespan of the concrete. The most important thing is to get a highly qualified professional to handle the installation process.
Exposed Aggregate Concrete patios
---
This name is given to the concrete that appears to be quite coarse. You will be able to realize some pebbles and bits in the slab. It delivers a texture and feels that is highly interesting to the concrete surface. You can also enhance the overall look by mixing colored bits or glass of tile with your concrete before you lay it. You can decide to use it as a border around your patio or get more liberal with it. Whatever you decide, exposed aggregate will definitely give you the opportunity of being different.
Poured Concrete Patio Installation
---
When you think about poured concrete, don't only think about the boring-big grey slabs that are characterized by very little personality. This should not be the case when dealing with concrete patios. Poured concrete gives you an opportunity of experimenting with the mixing of two different concrete colors. None of them have to be grey and you can give them a pattern that you create. You will have your own outdoor checkerboard for your space. You can also go for a concrete mural if you desire to be more adventurous.
Stamped Concrete Patio Installation
---
If you love the look of pavers or tiles but wish to have the durability and sturdiness of concrete, you can go for stamped concrete. In this case, you will pour concrete on your patio, and texture and design are impressed by using stamps when the concrete is still wet. You don't have any limitations to the number of designs and patterns that you can create. Some of the most popular designs for stamped concrete patio installation include stone, tile, flagstone, and sandstone pavers. For you to achieve these great looks, you need to use a particular dye to prepare your concrete. After this, you can pour or stamp with the most appropriate design.
These are just some of the options that you have for concrete patio installations. Therefore, you need to do a lot of research before choosing a concrete patio for your space. The only limiting factor, in this case, is your level of creativity.
We offer a variety of concrete and demolition services throughout Palm Beach County, FL. Click below to see how we can serve your needs today.
Here are our additional services throughout Palm Beach County
We offer concrete and demolition services throughout Palm Beach County, Florida. Below is a list of all the cities we primarily work in. But if you're needing services and you're outside our main work area, don't worry! We offer services throughout St. Lucie County, Martin County, and Broward County as well. To learn more, you can call or text us at (561) 693-2787 or click here fill out a contact form so we can assist you